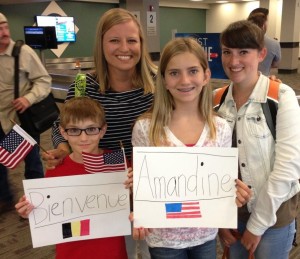 ILI's Homestay Program offers our F-1 visa students the opportunity to learn, first-hand, how Americans live and work. Often, the friendships which develop between students and their American host families last a lifetime. Homestay students live in comfortable houses in residential neighborhoods within normal commuting distance from ILI, MD. Each host family has been carefully selected and interviewed by the Homestay Coordinator.
All of our Homestay families live close to public transportation. A common commute door-to-door in the D.C. area can take between 30-75 minutes. If you arrive on the weekend (Saturday or Sunday before 9 pm), your host family may meet you at the airport and take you to their home. Otherwise, please arrange a time to meet your host family at their house.
Homestay includes a private bedroom, breakfast every day and dinner five days per week. To apply for Homestay, simply fill out the Homestay Application Form or download and print the PDF Homestay application. Please remember to be very specific and thorough. Your answers will help us to find the most compatible host family for you. A $150 placement fee and a deposit of one week of Homestay in the amount of $235 are due with the application. Without the payment of $385, the application cannot be processed.
Students are placed on a first come, first serve basis. We encourage students to apply as early as possible and at least two weeks in advance of the expected start date. Last minute applications are only considered if we have vacancies. If we are not able to place the student, a full refund will be given.
Important Information:
Homestay Placement Fee: $150. The Homestay Placement fee is non-refundable, unless ILI is unable to place the student with a host family in which case the fee will be refunded to the applicant.
The minimum length of Homestay is four weeks and a deposit of $235 is due with this application. We accept cash, U.S. checks, credit cards, money orders, Western Union and international bank wires.
The cost of four weeks of Homestay is $925. The weekly rate of Homestay is $235. The daily rate of Homestay is $35. The late fee is $15 per week.
The returned check/payment fee is $30.
The bank wire fee is $30.
All payments have to be made to ILI and not to the host family.
Prices are subject to change.
Homestay includes breakfast every day and dinner five days per week, a private bedroom, shared or private bath, use of TV and internet in common areas, and access to laundry facilities. Phone calls are not included and only calling cards may be used for long-distance calls.
Homestay may not be provided for students with special problems or requirements, including but not limited to any medical, physical or dietary issues. Such problems or requirements must be indicated on the application; otherwise ILI reserves the right to terminate the applicant's Homestay at any time.
Placement Process:
Once a completed application, including the full initial payment of $385, has been received, ILI's Homestay Coordinator will start the placement process. Students are placed on a first come, first serve basis. Once a suitable family has been found, the student will receive an email with the host family's contact information. If no suitable family can be found, the student will be notified and the payment refunded to the student.
Vacations:
Students on approved vacations from school need to continue to pay for Homestay unless they completely remove all personal belongings from the host family's home. Students may be placed with a different host family upon their return from vacation.
Cancellations:
If a student cancels at least 1 week prior to the expected start date, no charges apply. Otherwise, a 1-week cancellation notice applies and $235 will be charged to the student. Active Homestay students wishing to withdraw after their initial 4 week period but before the scheduled end date of Homestay are required to give ILI at least a 1-week cancellation notice before their intended last day in Homestay. Only if a 1-week cancellation notice is given, any pro-rated prepayment of Homestay will be refunded. Refunds will be made by check for all cash, check or debit card payments and by credit card for all credit card payments within 30 days of leaving Homestay.
Rules & Policies:
Applicant must be 18 years of age or older.
Applicant must be enrolled at ILI as an F-1 visa student in our Intensive English Program in Washington, D.C. or Gaithersburg, MD.
Applicant agrees to arrange a time to meet the host family at their house and to arrive between 8 am no later than 10 pm on the first day. Incoming flight information should be provided to the Homestay Coordinator.
Applicant agrees not to remain with the host family if no longer enrolled at ILI.
Applicant is responsible for the cost of commuting on public transportation to and from school which costs between $5-$15 per day.

Please note:

commute to school can take anywhere from 30 minutes to 75 minutes door-to-door, which is a very common commute in the DC area.
Applicant must be covered by health and accident insurance during Homestay. It is not our responsibility to provide such insurance. However, we do have information for our students. While we do not endorse the following health insurance company, we have been referring many students to Compass Benefit Group.
Applicant gives permission to the host family and ILI to arrange for any emergency treatment if necessary and takes full responsibility for the cost of such care.
ILI does not honor requests for host families of a specific race, religion, or ethnic background. In addition to traditional two-parent families, host families may include single-parent families, couples without children and single adults.
ILI is not responsible for any damage, illness, or injury incurred during the Homestay period.
ILI can arrange airport pick-up and drop-off service if the applicant's flight information has been sent to ILI at least one week in advance. The cost of airport pick-up or drop-off is $100 (from Dulles-IAD and Reagan-DCA airport) or $125 (from Baltimore-BWI airport) payable by the applicant to ILI in advance. For a less costly solution, we recommend Supershuttle.